SERVICES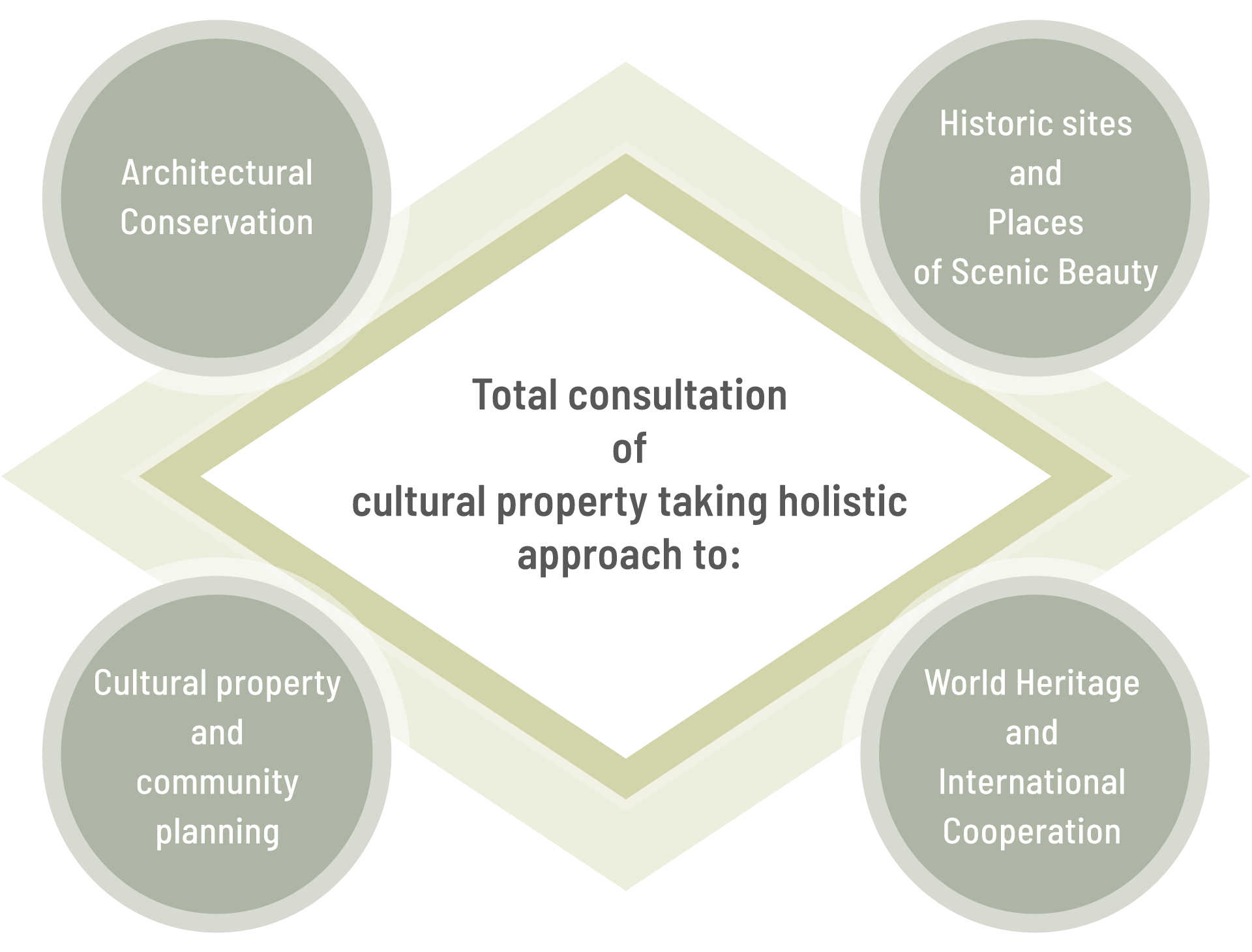 Our services fall mostly into the following four categories. "Conservation and restoration of historic buildings", "Conservation of and creating better environment for Historic Sites, Places of Scenic Beauty and Gardens", and "Conservation and adaptation for utilization of cultural properties from a geographically wider perspective," which were in place since the early days of the company. The service has then expanded to include "World Heritage and International Cooperation."
OUR SERVICES
Architectural Conservation
Architectural heritage and historical buildings have been re-evaluated as cultural resources which have a great potential to revitalize local economy and to initiate the identity of places or development of civic pride for regional societies and local communities in recent years
JCHC focuses on enlightening the paths to the future for cultural properties by revealing their historical values with careful assessments based on their architectural features, the materials and method used in their constructions, the accumulations of history and their contexts. We take various approaches as experienced conservation architects in our practice; our duty is not only restoring existing buildings but also being responsible to present the fundamental cultural values that each property has through reconstructions of lost buildings or structures and sometimes being engaged with new spatial designing or construction of museums.
Meanwhile, when protecting architectural heritage or trying to integrate them with practical use, various aspects come into procedures including seismic and fire safety protections to the buildings, coordination of neighboring fields such as archaeology or relevant stakeholders, and financial feasibilities with a use of subsidies.
JCHC assures our clients a total consultation to solve the complexity related to architectural conservation. Our knowledge and spatial creativity are supported by experience accumulated over the years in the conservation field by collaborating with wide range of experts.
Main services
Feasibility study and conservation planning
Site surveys, condition surveys, preparation of drawings, evaluations of built cultural properties
Designing, preparation of construction documents, construction administration for all sorts of works associated with cultural properties; restorations, conservations, reconstructions, conversions and new constructions
Seismic assessment, planning of seismic retrofitting, construction administration
Consultation for hazard management and risk assessment, construction administration
Project management or administrative advisory for subsidized projects
Technical advisory for architectural professions involved in conservation schemes for Nationally Registered Tangible Cultural Properties
Technical supports for property owners to proceed registration or designation applications of historical buildings
Historic sites and Places of Scenic Beauty
In maintaining and improving historic sites or places of scenic beauty, we provide consistent support in all stages of the work process from the concept planning to the feasibility study, designing, construction management, and report writing.
We propose the conservation and presentation methods, as well as the restoration and reconstruction planning and designing for various kinds of cultural properties such as burial mounds, castles, historical administrative buildings, settlements, gardens, etc., accurately grasping the potential values of the place, and with the specialized repair techniques acquired through many years of practice. On that basis, we contribute to improving the charm of the historic spaces by designing the signs, garden roads, and planting, which are necessary for creating pleasant and user-friendly spaces.
Our challenges continue to create and utilize spaces that meet the needs of modern society, catching new knowledge, the latest technology, and social conditions, by cooperating with various designers and experts.
Main Services
Conservation and utilization planning for historic sites and gardens
Basic planning for developing of historic sites and gardens
Restoration designing and project management for historic sites and gardens
Environmental designing and project management for historic sites and gardens
World Heritage and International Cooperation
For a cultural heritage property is to be nominated to UNESCO for the World Heritage inscription, first of all, the owner and/or manager of the property ? often the local government where it is located ? must identify and organize the values of the site and examine the potential of its Outstanding Universal Value, which is indispensable for inscription. And then, draw up a nomination file, which includes a comprehensive management plan.
JCHC provides such local governments and other entities with support at various stages of their nomination preparation process. This includes: consultation for nomination such as concept organization, comparative analysis, identification of issues to solve; making a roadmap and managing its progress; and drafting a conservation and utilization plan of individual cultural properties which would be part of the future nominated property. For properties which are already on the national Tentative List, JCHC supports the local governments in drafting nomination file, organizing scientific committee and international experts meetings, etc. The company also provides services such as producing nomination documents, coordination of translation and copyediting, PR material production, for those projects the Japanese government chose to nominate.
We help producing state of conservation reports and other materials to be submitted to UNESCO, for those sites already on the World Heritage list.
Main services
Support to preparation World Heritage nomination

Consultation and roadmap making and progress-managing for local governments with cultural properties
Comparative analysis
Production of management and utilization plans for individual components
Help producing a basic draft of nomination file

Support to nomination of World Heritage properties

Nomination file production, translation, coordination of translation and proofreading
Assistance in production of supporting materials
Editing and producing related publications and PR materials

Support to conservation and management of WH listed properties

Production of State of Conservation report
Survey for setting guidelines of the Heritage Impact Assessment
Visitor management system
Consultation for landscape protection
Assistance for preservation and maintenance of properties

International Cooperation

Help organizing international symposia
Cultural property and community planning
Efforts to incorporate the cultural characteristics of a local community to community planning are being made in various ways throughout the Japan. The United Nations emphasizes the importance of cultural diversity to the sustainable development of communities through SDGs (Sustainable Development Goals).
In planning various projects, such as urban revitalization, environmental conservation and tourism development, there is a momentum in recent years seeking to make use of tangible and intangible cultural properties -regardless of whether or not they are officially designated as such-- as well as lifestyle culture. Since the foundation of our company and even in advance of the trend, we have consistently believed that the effective utilization of these cultural properties is crucial for passing them down to the generation.
With our extensive experience in repair of a variety of historic buildings, gardens, and archaeological sites, as well as the technical expertise developed through their conservation and improvement, we are well-positioned to support planning and policymaking. Our philosophy is to preserve and convey the authentic charm of a site. We work in collaboration with academic and technical experts in various fields, and facilitate workshops with community participation. As a result, we provide consultation to identify the issues and assess the needs of local community and propose ideas and concepts best suited to them.
Main services
Support for drawing up "Regional Plan for Preservation and Utilization of Cultural Properties"
Support to drawing up "Plans for the Maintenance and Improvement of Historical Scenic Beauty"
Field surveys on groups of historic buildings, support to drawing up their Preservation and Utilization Plans
Field surveys on cultural landscapes, drawing up their preservation and utilization plans
Consultation regarding local historic districts in urban planning, municipal landscape plans, and local road planning